Wharton CEO's Highlights from the National Black MBA Association Conference
Philadelphia Hosts The 45th NBMBAA Conference
The National Black MBA Association (NBMBAA) is the largest network of Black professionals, with 40 local chapters and a growing membership of 11,000 strong. Their mission is to provide educational and wealth-building opportunities for its members across the country. The NBMBAA convened for its 45th Annual Conference and Career Expo at the Philadelphia Convention Center, September 12 – 16, 2023.
The Wharton CEO team attended, proudly supporting Dean Erika James as one of the conference's 2023 Honorary Co-Chairs. As CEO continues to produce and support faculty research in equity and opportunity, we wanted to understand the issues facing Black MBA students and professionals, learn about the DEI initiatives organizations are implementing, and gain insights into the discussions around wealth building and board diversity.
Among the attendees were MBA candidates, prospective MBA students, and business professionals looking to connect, network, and learn from top business leaders and executives. The Career Expo hosted industry giants like IBM, Wells Fargo, McKesson, Colgate-Palmolive, FedEx, Discover, Marriott International and more to engage with potential talent and demonstrate their commitment to diversity, equity, and inclusion.
When attendees weren't navigating the aisles of the career expo, they were taking notes in workshop sessions, and soaking up wisdom from keynote speakers. Wharton's Dean Erika James, Actress Phylicia Rashad, who also serves as the Dean of Howard University's Chadwick A. Boseman College of Fine Arts, and TIAA CEO, Thasunda Brown Duckett, all took center stage throughout the week.

Dean James On Successful Leadership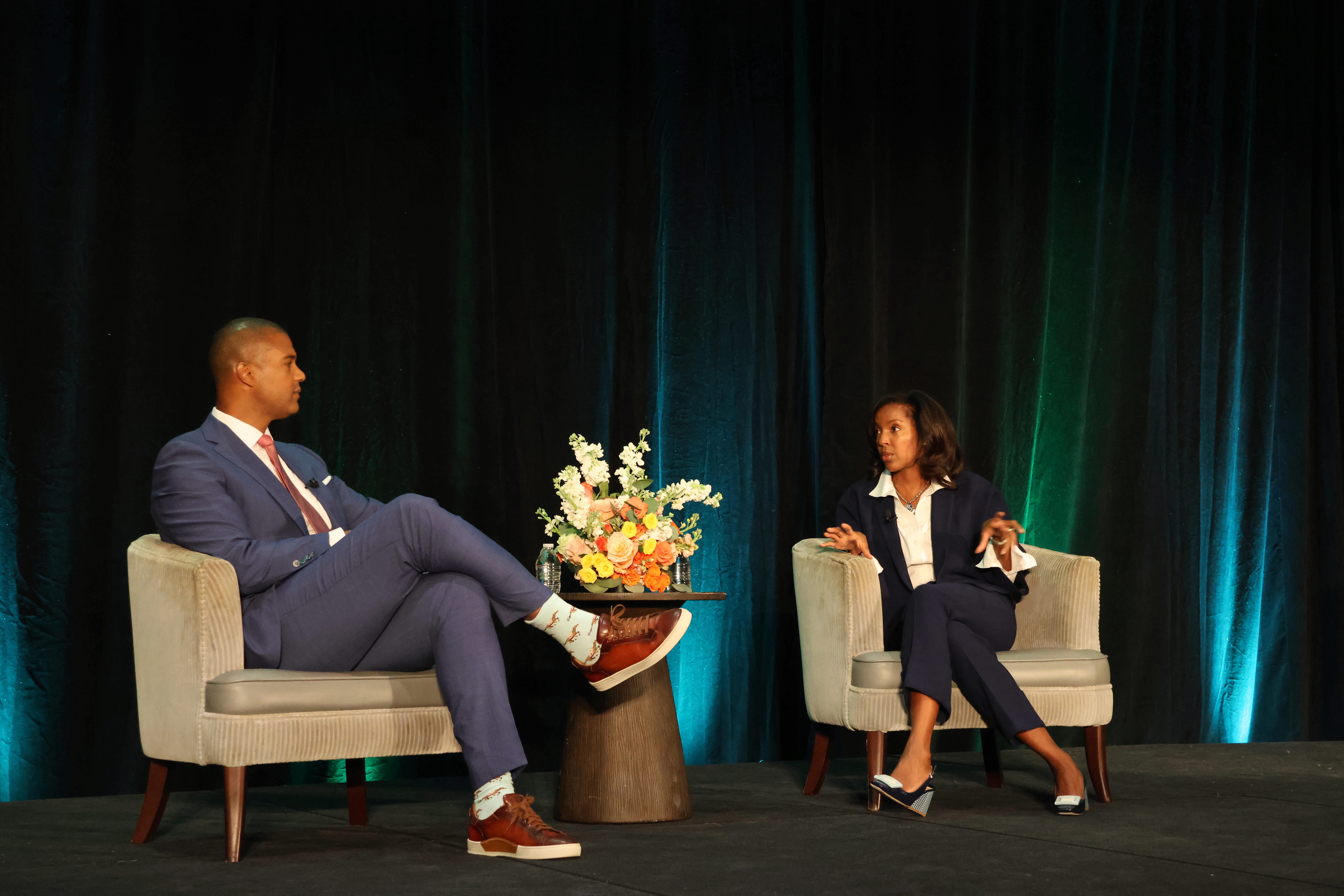 The conference kicked off with "Culture Eats Strategy for Breakfast," a fireside chat with Dean James and CNBC host and West Philadelphia native Frank Holland.  Setting the tone for a week of learning, Dean James offered her expertise to help leaders build environments and organizations where employees can thrive, emphasizing the importance of establishing transparency and trust. "We talk about organizations as if they are these entities without souls, emotions, or life, and organizations are living, bringing things," she says. "We have to recognize that it is the people that make the organization. As leaders, we have a responsibility to focus on the individual and the teams that comprise that organization and build strong, meaningful relationships."
A Workshop on Getting to the Top and Staying There 
One of the standout workshops, "Black Places in High Places," presented a roadmap for Black professionals seeking to move up within their organizations. Business consultant Randal D. Pinkett and business school professor Jeffrey A. Robinson highlighted their research, sharing stories from global Black leaders in business, academia, politics, and entertainment.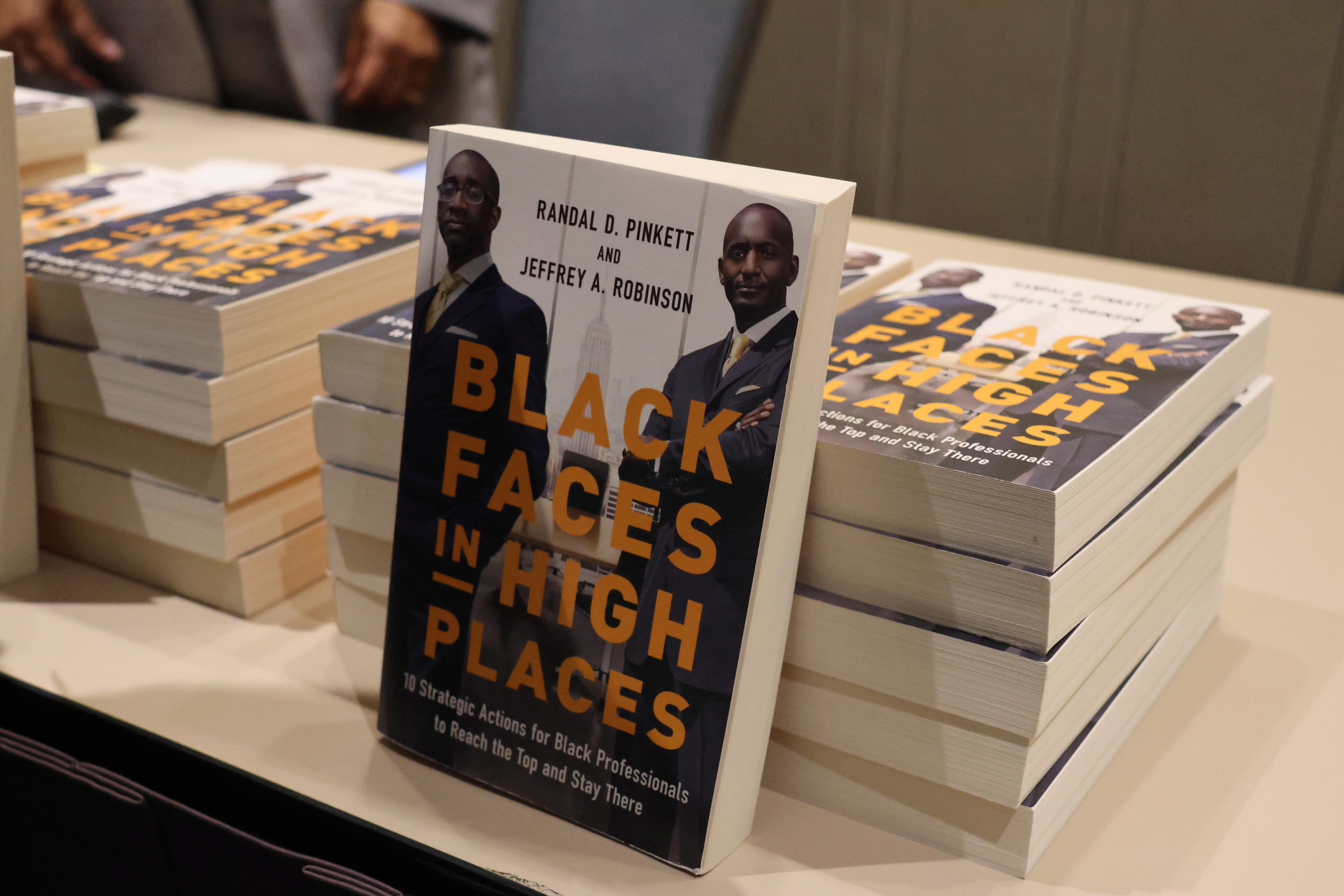 Using stories and insights from leaders such as President Obama, Oprah Winfrey, Ken Chenault, and Ursula Burns, they underlined the importance of identity and purpose as an anchor in navigating these waters. "As you go further and rise higher, the winds of expectations, pressure, stereotypes, racism, and sexism only blow more violently," Pinkett says. The workshop offered advice to those struggling with imposter syndrome, reminding them to view their culture as an asset rather than a liability, while emphasizing the importance of having a strong support system.
DEI Insights from a Leading Asset Management Firm
In the aftermath of Geroge Floyd's murder, State Street's Chairman and CEO introduced "10 State Street Actions to Address Racism and Inequality (10 Actions)" as a pledge to build a more just world. These actions focused on DEI advancement through human capital, corporate citizenship, and business practices, policies, and products. In "Equity in Action," State Street's Head of Global DEI Programs & Solutions Management, Sharhea Wade led a panel discussion with her colleagues on the progress they've made, particularly in increasing Black and Latinx representation in senior management and diversifying supplier networks. Panelists shared their perspectives on opening doors for underrepresented communities. Kim Binette, State Street's Head of Global Technical Systems IT Project Management, says in her research she found 65% of project managers are white. "I'm often the only black woman and person in the room." Highlighting the unique opportunity for Black professionals in a landscape increasingly valuing diverse talent, she says "We must make ourselves be seen."
Landing a Board Position
The session "Board walk" featured seasoned business leader Quentin Roach, Estée Lauder's newest SVP & Chief Procurement Officer. In conversation with Dede Orraca Cecil, U.S. Head of DEI at Egon Zehnder, the global leadership advisory firm, Quentin shared his personal journey on attaining board positions and navigating the boardroom. As a board member of USFoods, he emphasizes, "I never miss the opportunity to make sure we're thinking about diversity." "We have to do it in a way where we can meet people where they are," highlighting the nuanced approach required to realize the progress we aim to achieve. As a trusted advisor for organizations seeking board members, Dede underscored the challenges posed by board term limits and how that can perpetuate existing inequities and impact board diversity. "Progress is only as fast as seats open up," she says. Their shared sentiment is that there's still important work ahead to advancing equity and inclusion in boardrooms across industries.
Thasunda Brown Duckett On Achieving Diverse Representation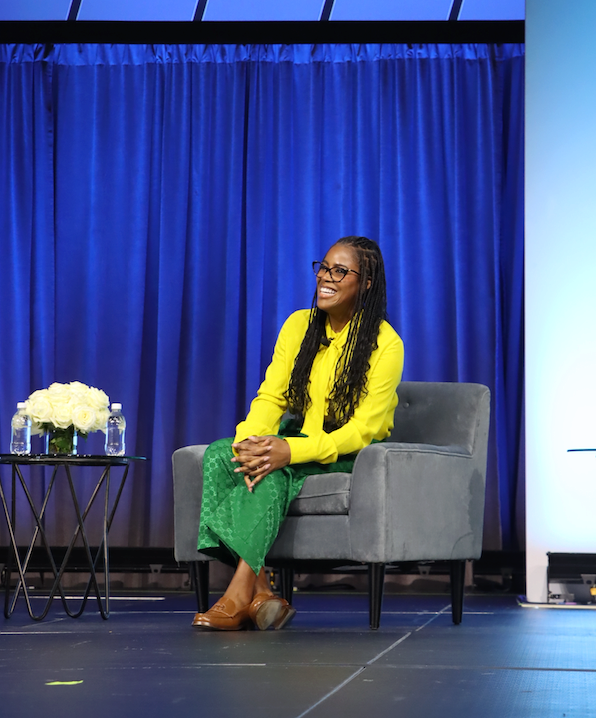 The conference closed with a powerful conversation featuring TIAA's Thasunda Brown Duckett, led by Selena Hill, Deputy Editor at Black Enterprise. Despite the early morning hour, attendees were awake and engaged, captivated by Thasunda's exciting energy. Duckett, soon to be the sole Black woman CEO at a Fortune 500 company, discussed the steps necessary to foster diversity from the C-suite to entry level positions within organizations. She stressed that achieving equity takes a collective effort. "Just because you don't see yourself doesn't mean there's not an ally waiting to support you." Duckett talked about the strength and inspiration she draws from her family and sisterhood, urging attendees not to be discouraged. Impostor syndrome, a recurring theme throughout the conference, was addressed, with Duckett explaining, "I am never by myself, all of those who have stood before me, I bring them in the room." 
This event is just one of many that CEO is excited to participate in, as we forge partnerships to address inequities and offer tangible workplace solutions to expand access to economic opportunities for everyone.